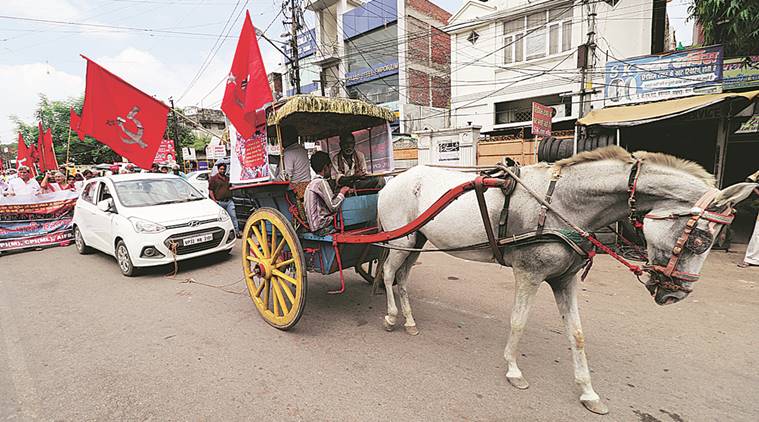 Bharat Bandh: Uttar Pradesh largely unaffected; Yogi Adityanath, Opposition spar
As the Opposition protested against the hike in fuel prices on Monday, Samajwadi Party called the BJP "arrogant" and the Congress called the ruling party "stubborn".
The "Bharat Bandh" in itself, however, had little impact on normal life in the state, PTI reported, as most commercial establishments and educational institutions operated as usual, while Chief Minister Yogi Adityanath slammed the Opposition for its "negative thinking".
Samajwadi Party chief Akhilesh Yadav said the BJP and its government would face the anger of the people in the coming Lok Sabha elections.
"The BJP and its government are so arrogant that when today the entire country is protesting, they chose to increase the price of diesel and petrol," said Akhilesh, adding that soon the ruling party would start saying that price rise would bring prosperity and happiness.
He even alleged that demonetisation and GST were brought in to increase import from China and said that today import from China is equivalent to entire UP government budget.
Congress state chief Raj Babbar took out marches in various areas of Lucknow along with party workers requesting shopkeepers to join them in the bandh.
Calling the protest a result of desperation and warning that if Opposition did not shed its "negative role" then they would not be left worthy of sitting in the opposition, Adityanath said, "Aise samey mein nirash aur hatash vipaksha, jis mein netritva nahi, neeti nahi, aagami karyon ke liye ranniti nahi..us vipaksha se is se jyada umeed nahi ki ja sakti hai (In such a scenario, the desparate Opposition, which does not have leadership, any policy or any strategy for future, nothing more could be expected out of them)."
He further said, "Agar vipaksha apni nakaratmak bhumika chhod kar ke sakakaratmak bhumika mein rahega to apni vastavikta ko banaye rakh payega.Vipaksha apni nakaratmakta nahi chhodega to unki yeh nakaratmakta unko vipaksha mein baithne layak bhi nahi chhodegi (If the Opposition adopts a positive role, leaving its negative role then it would continue to maintain presence. However, if Opposition would not leave its negativity then it would not be worthy of sitiing in the opposition side)."
Later in the day, Akhilesh Yadav tweeted, "'BJP's vision, only television..' so now they are claiming and dreaming to rule for the next 50 years. seems like they have full confidence in their EVM strategy, that is, Election via mischief."
Targeting BJP and the claims made by it that price rise is result of rise in prices of crude oil in international market, Raj Babbar said, "Jo log besharam ho chuke hon, jo dheeth ho chuke ho, jinke paas aise vakeel ho, jaise vakil agar unka client agar apradhi bhi hota hai to usko bachane ki koshish karte hain," said Babbar.
He also said, BJP has been exposed during its recent executive meeting in Delhi, where it did not talk about price rise and said that prices of petrol and diesel have been rising constantly for past three days since the meeting began.
Uttar Pradesh cabinet minister and SBSP chief Om Prakash Rajbhar supported the bandh. Rajbhar said that the BJP seems to have forgotten the way it used to hold protests against petrol and diesel price rise while in opposition. He said that whatever Congress is doing is "right".
Start your day the best way
with the
Express Morning Briefing