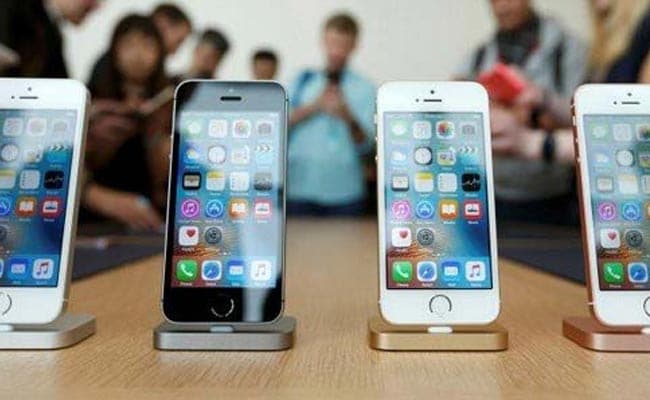 Apple Selling 'Made In India' iPhones On Trial Basis
Bengaluru:
The US-based technology major Apple has started selling iPhones at select stores in the country that were assembled in India as part of its trial run.
"Apple is selling iPhone SE in India at select stores. These phones were assembled in India on trial basis in limited quantities," an industry source told PTI. Apple did not comment on the development.
The technology major a couple of days back had said that it was "beginning initial production of a small number of iPhone SE in Bengaluru".


"The high-end India-made iPhones (iPhone SE) have already hit the Indian market. These have been on sale from May 2 onwards," another source said.

A picture shared by the source showed details of the iPhone SE with 32GB storage capacity with 'Designed by Apple in California, Assembled in India' printed on the box.

The picture showed the price of Rs 27,200 inclusive of all taxes on the box.

The source also said the Cupertino-based maker of iPhones and iPads had completed the manufacturing of iPhones SEs in Bengaluru in April.

The units are assembled by Apple's Taiwanese manufacturing partner Wistron Corp.

Earlier, Karnataka IT Minister Priyank Kharge had told PTI that the making of iPhones in India would help Apple lower prices and gain a foothold in the Indian market.

He had also expressed hope that it would bring in much needed taxes to the state as well.

Apple wants to bring its component manufacturers to India to make parts and export finished phones and is seeking tax concessions on import of key components. However, the central government has rejected most of the demands of the US company.

Kharge also had said if the Centre was keen on taking on China, it should not give special treatment to Apple alone, but to other players like Samsung and Lenovo also if they are desirous of opening manufacturing units in India.

Kharge had said the government should also give companies, including Apple, certain timelines, subsidies and incentives to create a level-playing field.

(This story has not been edited by NDTV staff and is auto-generated from a syndicated feed.)