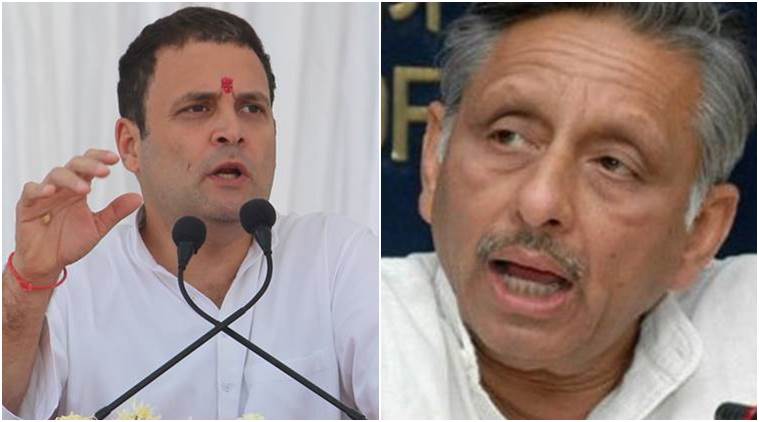 Rebuked by Rahul Gandhi, Mani Shankar Aiyar apologises for 'neech aadmi' remark on PM Modi
Congress vice-president Rahul Gandhi on Thursday asked party leader Mani Shankar Aiyar to apologise to Prime Minister Narendra Modi for his 'neech aadmi' remark saying it was not the culture of the Congress Party.
"BJP and PM routinely use filthy language to attack the Congress party. The Congress has a different culture and heritage. I do not appreciate the tone and language used by Mr Mani Shankar Aiyer to address the PM. Both the Congress and I expect him to apologise for what he said," Gandhi tweeted this afternoon.
Speaking to reporters in New Delhi, Aiyar, reacting to Gandhi's remarks, said: "Why was PM taking a jibe at Congress and Rahul Gandhi at inauguration of a Centre on Baba Saheb Ambedkar? Everyday the Prime Minister is using foul language against our leaders. I am a freelance Congressi, I hold no post in the party, so I can reply to PM in his language. I meant low level when I said 'neech', I think in English when I speak in Hindi as Hindi is not my mother tongue. So if it has some other meaning then I apologise. I never called Modi a low born."
Read Also: Before calling Modi chai-wala and neech, Mani Shankar Aiyar had once called Vajpayee 'nalayak'
Aiyar had earlier in the day attacked the prime minister for saying that the Congress tried to erase the contribution of BR Ambedkar in nation-building. Aiyar said the comments by the PM showed his low-level mindset and one bereft of any manners.
"Mujhko lagta hai ki ye aadmi bahut neech kisam ka aadmi hai, isme koi sabhyata nahi hai. Aise mauke par is kisam ki gandi rajniti karne ki kya avashyakta hai? (This shows the low-level mindset of the PM and one bereft of any manners. What is the need of doing such dirty politics on such an occasion)."
In his address after inaugurating the Ambedkar International Centre at Janpath, New Delhi, Modi had said that political parties who sought votes in the name of Ambedkar were perhaps not even aware that the project was pending and, asserted, only after BJP came to power that it was fast-tracked.
"Such was his (Ambedkar) incredible strength, that when years after his demise efforts were made by such people to crush his philosophy, when efforts were made to erase his contribution towards nation-building, his ideals could not be wiped outfrom people's memory," PM Modi said, taking an apparent dig at the Congress.
© IE Online Media Services Pvt Ltd