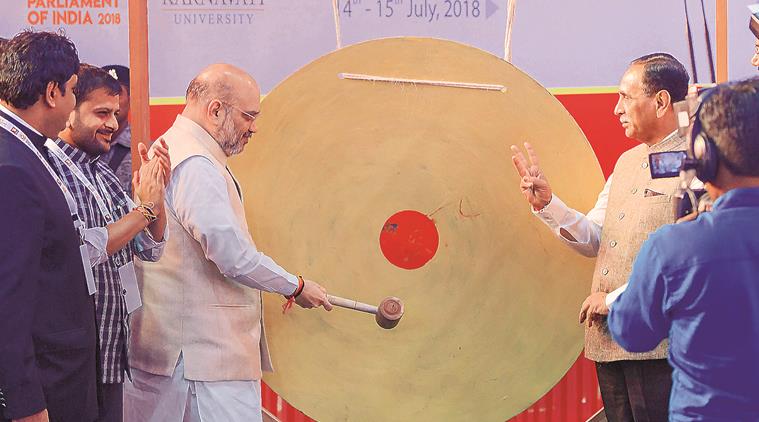 Amit Shah slams Congress, says party has no 'internal democracy'
Targeting the Congress, BJP president Amit Shah on Saturday said that a family that cannot practise internal democracy cannot run a democratic party. "New India" under the leadership of Prime Minister Narendra Modi would be free from such a "parivar" (family), he added.
"How can a family that cannot practice internal democracy run a democratic party?" Shah said. He was addressing 'Youth Parliament 2018' in Gandhinagar at the privately run Karnavati University.
"Today we are the largest democracy. In the last 70 years, we achieved a lot of things, but there is a lot to be done," he told the students from across Gujarat's universities.
Counting the "achievements" of the Modi government while claiming he was "not politicising the event", Shah said that four years ago, the BJP government inherited nearly 60 crore people without a bank account, no toilets in crores of households, no electricity in 19,000 villages. "We brought 30 crore bank accounts in the banking system. We built 12 crore toilets, electrified 19,000 villages," he said.
Shah said earlier, ISRO used to launch "one or two or four satellites in one go, but after the Modiji-led BJP government came, ISRO launched not one or two but 104 satellites." It is the Modi government, Shah said, "that took revenge on Pakistan by entering their houses in the surgical strike".
The BJP chief said he was asked to speak on "2025 ka Bharat (India of 2025)", but according to him, the target is 2022, when India will complete 75 years of independence. "Modiji has aimed at showing New India, the India of our dreams, to be clean, prosperous, corruption-free and with a transparent government, free from terrorism, casteism and free from appeasement."