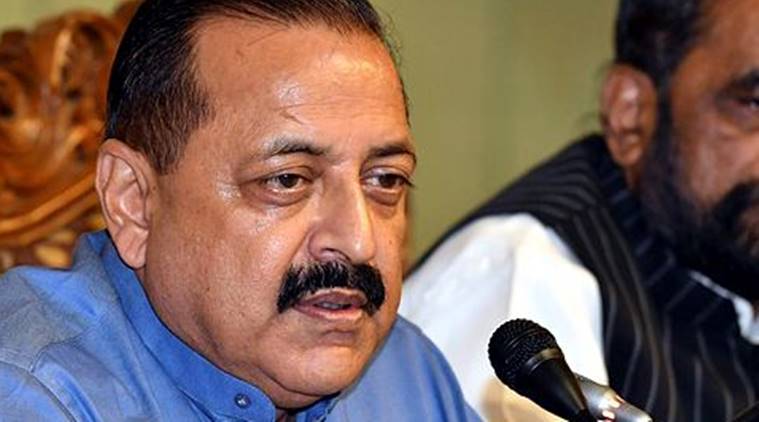 A terrorist is just a terrorist: Jitendra Singh on PDP MLA's comment
Union Minister Jitendra Singh on Friday tried to play down the "Kashmiri militants are martyrs" remarks of a PDP MLA, calling it a "stray comment" and said the government was firm on its stand against terrorism. Aijaz Ahmed Mir stoked a controversy yesterday when he described Kashmiri militants shot dead in encounters with security forces as "martyrs" and "brothers" and also cautioned against glorifying their killings.
"If a stray comment is made by a stray person, it is not to be given any importance. But as far as we are concerned, a terrorist is a terrorist and a terrorist only," Singh told reporters here in reply to a question seeking his reaction over the remarks.
"Terrorism is to be dealt in the way terrorism is dealt. We have zero tolerance against terrorism and government is clear on this stand and will continue to follow this stand," he said.
The union minister said such comments amount to disrespecting the nation's security forces. "By saying anything, terrorist cannot be a martyr and by making such an apologetic statement about terrorists, who engineer terrorist acts, amounts to disrespecting security forces," said Singh.
The PDP MLA's remarks came as an embarrassment for his party as its alliance partner the BJP decried the comments saying these were "absolutely intolerable" and demanded an FIR against him.
Singh said he was proud of India's successful launch of its 100th satellite along with 30 other spacecraft including weather observation Cartosat 2 series onboard the Polar rocket from Sriharikota today. "This is a matter of pride for each one of us," said Singh.
"Having been associated with the department for last four years, it is a very pleasant coincidence that I am associated with this department when ISRO is scaling new heights," he said.
Singh said the launch was significant since 28 of the 31 satellites were foreign and belonged to developed countries like the USA, the UK, Finland, Canada, and France. "It is a reflection that those countries, which started space research much earlier, are today reposing faith on India for launching their satellites. This shows that India has, in a short period of time, risen to the front-ranking nation as far as this technology is concern," he said.
Singh said the satellites would enhance India's navigational capacity and add tremendous value to various schemes of the government. "These satellites will be an addition to Prime Minister Narendra Modi's 'Make in India' mission," he said.