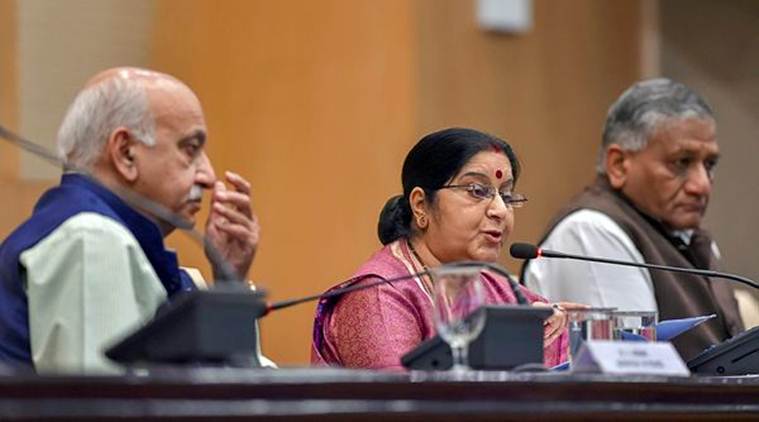 39 Indians killed in Iraq: 'Insensitive', Swaraj must apologise, says Congress
The opposition parties Tuesday slammed the NDA government for making an announcement on the deaths of 39 Indians in Mosul in Parliament before intimating their families, calling it "insensitive and unpardonable." "She (Swaraj) should say to the families that she kept them in the dark and that she had no information," senior Congress leader Ambika Soni said, mounting the charge on the government after External Affairs Minister Sushma Swaraj told Parliament that all the 39 Indians abducted by terror outfit ISIS in Mosul in 2014 were dead and their bodies had been recovered.
The Congress demanded that Swaraj should meet each family and publicly apologise to them, while AAP leader and Kharar MLA Kanwar Sandhu called for her resignation. Congress leader Shashi Tharoor also accused the government of giving false hopes and said the performance of the government in dealing with this crisis has been "disappointing."
Reacting on Twitter, National Conference leader Omar Abdullah said: "Nothing Govt of India says can make up for the sheer heartlessness displayed today. Using Parliament as an excuse for the families of 39 dead Indians having to learn of their heartbreaking loss from TV channels is unpardonable (sic)."
Earlier, Congress president Rahul Gandhi also expressed shock and his deepest condolences at the killings. In a tweet, he said: "I'm shocked to hear that 39 Indians who were in captivity since 2014, in Iraq, are now confirmed dead. My deepest condolences to the families of those who have lived in hope, that their loved ones will return unharmed."
A group of 40 Indian workers, mostly from Punjab, were taken hostage by terror outfit ISIS when it overran Iraq's second largest city Mosul in 2014. Of the 40 Indians, one Harjit Masih from Gurdaspur had managed to escape and had claimed to have witnessed the massacre of the others.
But the government rejected his claim. Congress Leader of Opposition in the Rajya Sabha Ghulam Nabi Azad said the Ministry of External Affairs had forcefully asserted in Parliament last year that the abducted Indians were alive, but was now saying they were dead. The party claimed that the government hurriedly made the announcement as it feared it would be "exposed" by Martyrs Foundation, an Iraqi group.
The party has demanded adequate compensation and honourable funeral for the dead. Hitting back, Union Food Processing Minister and Akali Dal MP Harsimrat Kaur Badal accused the opposition leaders of playing politics over an unfortunate incident.
— With PTI inputs