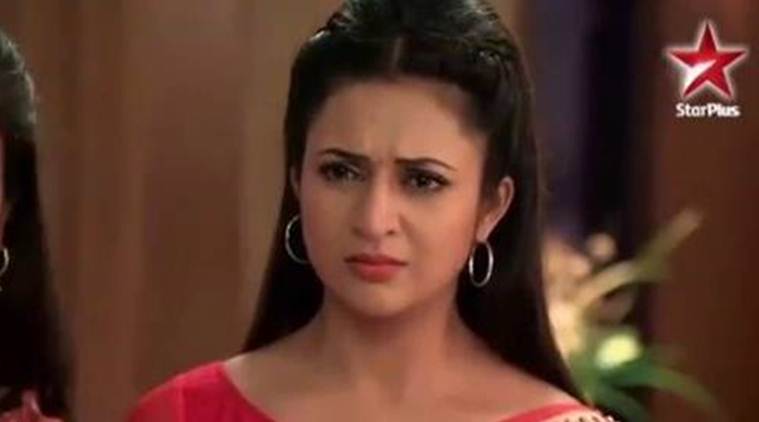 Yeh Hai Mohabbatein 21 September 2017 full episode written: Ishita and Raman are at loggerheads over Ruhi
Ruhi tries to explain to Raman that her car broke down and Nikhil was there and he dropped her home on bike because she was getting late. All the guests start whispering about the upbringing and the scene created by them when Kiran talks to them and says that this society is like a family and how could they talk like this about their own children and all of them leave.
At Bhalla house Raman asks Ruhi how can she slap Romi for that Nikhil and says she can even slap him in some days and would get him arrested for that Nikhil and Ruhi says she didn't slap him. Madhu tries to calm Raman and Ruhi down and asks Ruhi to tell him that she won't meet that guy again, but Ruhi says she met him as he is not what they think of him and he is a nice guy. Raman asks her to not argue, but she says she loves him and he is not a bad guy so she won't stop meeting him. Raman slaps Ruhi in the chaos and Ishita comes to hold and console Ruhi. Raman asks her to wait and goes inside while everyone is confused what's happening. Raman comes out with a bag in which he has packed Ruhi's clothes and throws it to Ruhi and says if she wants to meet him he has an idea for her, she can go and stay with that man.
Raman grabs Ruhi's hand and drags her to the door and pushes her there and asks her to leave. While everyone goes after them to stop him, Ishita hurts her foot with glass and still goes after them. Aadi and Romi ask Ishita to watch out but she goes and hugs Ruhi and Raman tells her that this all because of her that Ruhi is behaving this way. Ishita says he always says so, he always blames her for anything bad their children do and take credit for all good. Raman asks her to chose between Ruhi and him which shocks everyone. Ishita looks at him in disbelief when Aadi tells her that she knows Raman says such things in rage but she shouldn't take it seriously, but Ishita says he has made their relationship so weak and if she had to choose between Raman and Ruhi, she'll choose Ruhi because she is the basis of their relationship. Pihu comes there and asks Ishita to come along and narrate her a bed time story and pulls her. Ishita goes with her.
Mr Bhalla asks Raman if he should behave the same way with him. Raman says he is also a father and he can't see his kids ruining their life. Mr Bhalla says he is also a father and that too of a stubborn kid who has never listened to anyone, but he never forced him to do anything. Raman says he isn't happy doing this and can't see his kids in problem. He requests him to stop Ishita and Ruhi and says he knows what Ishita did was right and even he would've chosen his kids. Mr Bhalla asks everyone to go to their rooms.
Ishita is stunned with all that happened and is going to change into night clothes when Raman comes there and both give each other rude looks.
There Mr Iyer is consoling Madhu as she is having a headache with all that happened when Kiran comes there and asks what happened. She says she saw the lights on so she came to ask and says she feels Madhu's blood pressure is high. Mr Iyer asks her to check her blood pressure and she does the same and tells that she was right. She gives medicine to Madhu and leaves. Madhu says she is such a nice girl. Next morning Ishita offers aarti to everyone, but Raman doesn't take it and he takes a step back. Mr Bhalla asks him why is he behaving this way with Mata rani and he says faith should be in heart and he need not show off.
© IE Online Media Services Pvt Ltd