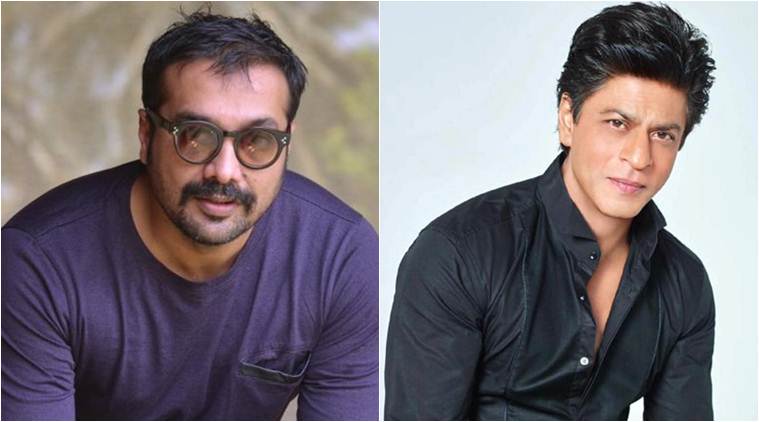 Won't leave Bollywood until I make film with Shah Rukh Khan: Anurag Kashyap
Theirs is a relationship a few know about and even less would believe its existence in the first place. Between a star, who is the face of everything aspirational, Shah Rukh Khan, and a director, who thrives on serving reality, which is often hard-hitting, Anurag Kashyap, a friendship would sound unlikely.
But Anurag Kashyap tells that not only is their bond over 20 years old but in fact, it is so dear to the director that he knows his filmography would remain incomplete if it doesn't feature at least one film with Shah Rukh Khan.
In a group interview, held on the sidelines of the ongoing 'India and the world – The Changing Narrative' film festival conceptualised by writer Anuraadha Tewari, which Kashyap inaugurated, as the director talked films, he also fondly opened up about his camaraderie with Shah Rukh, and how they came close to working with each other several times over the last few years.
For the longest time, there were rumours that Shah Rukh was supposed to do Kashyap's No Smoking (2007), which finally went to actor John Abraham. And it turns out, the superstar was indeed keen to do the film but it was Kashyap, who "went away from him". "Shah Rukh Khan wanted to do No Smoking, he was very upset when I went away from him. I also went to him with Allwyn Kalicharan. I wanted to do that with him and a big superstar from Hollywood. Everything was almost done but then again (it didn't happen)," Kashyap said before quickly adding that he is certain the duo will collaborate with each other one day.
"But we will work together. I won't go anywhere without making a film with Shah Rukh Khan," the director said with a child-like enthusiasm. But Kashyap is also sure that he will go to Shah Rukh, who also happens to be his Delhi University senior, with a script only when "the actor looks at him as a filmmaker and not a junior."
"I will write a film that will lure him. He should be attracted to it, he should be dying to do the film. That's only when it can happen." The fact that Shah Rukh, perhaps, looks at the filmmaker like a junior became evident when Kashyap shared how the actor keeps advising him to do things his way to achieve bigger successes. "He is my senior from university, he has been there like a big brother helping me. Shah Rukh is super successful. When he loves you, he approaches things like, in my struggling years, (he used to tell me), 'If you do what I tell you to do, your problems will disappear'. But I didn't want him to make my life, I love him to death."
The difference in opinion in terms of career choices, however, never affected their friendship. In fact, Kashyap, who is notoriously known as a non-conformist in Bollywood, said he can't dare defy Shah Rukh.
"He is the only guy I can never speak up to. I can fight with the world but him. If he scolds me, l'll sit in a corner and cry. He is someone I have this love for. He's the only guy I can't fight with. He always makes fun of me, bullies me. He says 'Agar main bolta na woh Wasseypur ka dialogue toh teri picture zyada badi hit ho jaati.' (If I had spoken the dialogues of Wasseypur, your film would have been a bigger hit) He's like that. He is super charming, he can charm everyone around him," the director said.
© IE Online Media Services Pvt Ltd