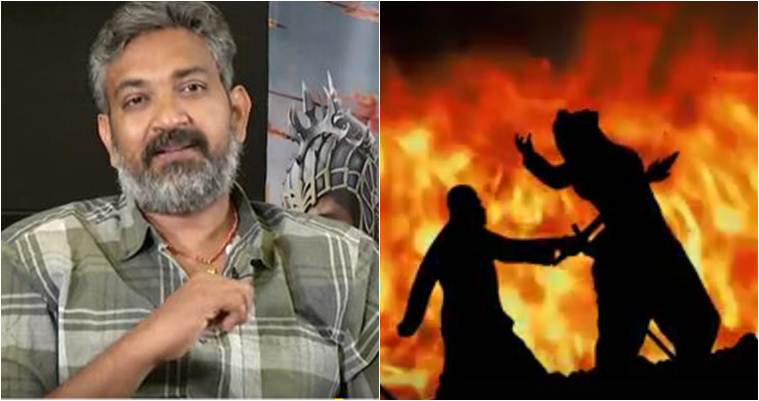 Will Baahubali 2 release in Karnataka? SS Rajamouli says targeting film due to Sathyaraj 'not right'
Just days ahead of the release of Baahubali: The Conclusion, many pro-Kannada organisations have started demanding an apology from actor Sathyaraj, who plays the key role of Kattapa in the film, for some controversial remarks he made several years ago. Talking to a news channel recently, director SS Rajamouli said that targeting his film because of Sathyaraj was "not right."
"It is a sad thing and we were shocked to see that on social media," Rajamouli told India Today channel. "I worked with Sathyaraj for almost five years and I could have never ever imagined he is a person who could try to hurt someone. Some videos were posted on the internet. When we started inquiring, we learned that whatever comments Mr Sathyaraj made it was nine years back. And after that, about 30 films of his were released in Karnataka. Baahubali 1 released. No one had problems with that. And suddenly, raking up the issue at this point in time is not right," he added.
Read | Baahubali 2: After Karnataka, SS Rajamouli film facing uncertainty in Tamil Nadu. Will it release in south India?
He also suggested stopping the screening of the film will not affect Sathyaraj in any way. "He (Sathyaraj) is not the director of the film. He is not the writer or producer or the hero. He is just a supporting actor. He acted in the film and took his remuneration and went away. So whatever people do against Baahubali 2 will not affect him in any manner. It is sad. I think people will understand the issue and it will be resolved," he said.
While talking to another entertainment portal, Rajamouli said, "We are no way connected with the issue. It is a very sensitive issue. We don't what to talk about the issue. Whether speaking about it will pacify the issue or instigate it further we don't know, it is a very sensitive issue. We also don't know if keeping quiet is the right thing or talking about it. We are in a confused state. We feel turning the anger on Sathyaraj towards Baahubali is not right."
"It doesn't affect Sathyaraj in any way. If at all, it only affects the film, which has nothing to with Sathyaraj or his opinion," said Baahubali producer Shobu Yarlagadda.
At a protest meet in Tamil Nadu during a water sharing dispute between Karnataka and Tamil Nadu, Sathyaraj attacked pro-Kannada groups and activist Vatal Nagaraj. The veteran Kannada activist has now been leading an anti-Baahubali campaign threatening to stop the screening of the film across the state.
According to reports, no distributors or exhibitors have bought the theatrical rights of Baahubali 2, which is pegged at Rs 40 crore, in Karnataka fearing a backlash from the pro-Kannada groups. The film will hit the screens worldwide on April 28 but will it open in Karnataka? Only time will tell.
© IE Online Media Services Pvt Ltd