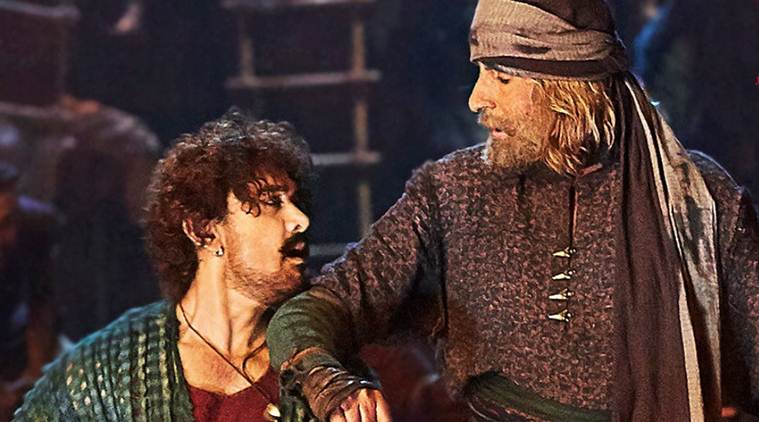 Thugs of Hindostan box office collection day 8: YRF production continues to struggle
Thugs of Hindostan saw Aamir Khan and Amitabh Bachchan sharing screen space for the first time but it seems the duo failed to pull in the audience to theaters. While the Vijay Krishna Acharya film had a super start at the box office with Rs 50.75 crore, the film has shown a massive dip in its first week. It seems bad reviews and word of mouth promotion has led to the fall.
On Wednesday, the film earned Rs 3.50 crore taking the total collection to Rs 137.55 crore.
#ThugsOfHindostan – #Hindi: Thu 50.75 cr, Fri 28.25 cr, Sat 22.75 cr, Sun 17.25 cr, Mon 5.50 cr, Tue 4.35 cr, Wed 3.50 cr. Total: ₹ 132.35 cr. India biz… #Hindi + #Tamil + #Telugu total: ₹ 137.55 cr.
Note: #Tamil + #Telugu day-wise data in next tweet.

— taran adarsh (@taran_adarsh) November 15, 2018
While the film has received bad reviews mostly, Shah Rukh Khan said it's unfair to overlook the good work done by an actor if a film fails to impress.
"There are people who have given excellence to cinema for years. A film can be good, a film can be bad; none of us can ever claim ki 'maine duniya ki sabsi achchi film banayi hain.' Mr Bachchan and Aamir have been people who have constantly contributed to the excellence of cinema. The greatest contribution to Hindi cinema in the last 10 years has been from Aamir, and with Amitji, it's been even longer. Now if a film of theirs (Thugs of Hindostan) doesn't reach the level that you expected it to, does it take away from what they have done for cinema?" said Shah Rukh in a recent interview with The Telegraph.
The Indian Express critic Shubhra Gupta wrote, "Not only do you end up picking up on past films, scenes and references, you are left struggling with staleness and boredom. The writing is shockingly pedestrian, and the film just lies around, waiting for something to happen. Nothing does, for nearly three hours. Yes, this is thuggery on a large scale, and we the viewers are at the receiving end."
© IE Online Media Services Pvt Ltd