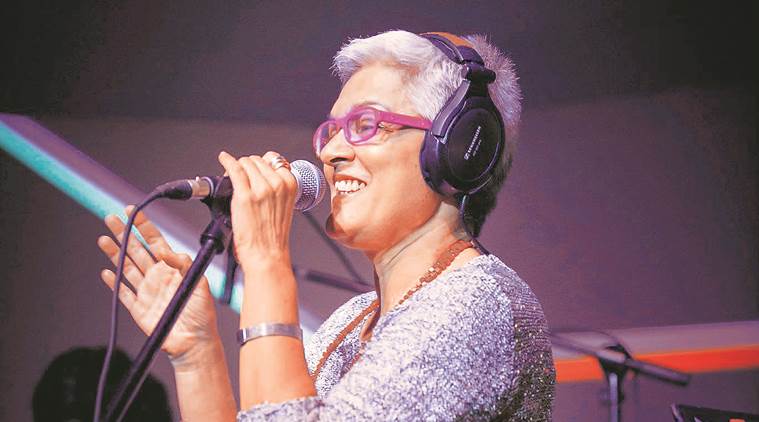 The Woman Who is Me
When will I ever see, that you're wise and free
When will I ever stop holding you down
When will I ever know it's time to let you go
Into the destiny to which you were born…
Two years ago, at Kolkata's popular Sienna Cafe, singer-songwriter Jayashree Singh and guitar legend Amyt Datta performed songs from their Skinny Alley repertoire. One of them was When Will I, a song written by Singh for her son, Jivraj "Jiver" Singh, drummer and one half of dream-pop duo, Parekh & Singh. To say that it is a song about motherhood, would be doing Singh a terrible disservice — to write simply, and encompass an entire universe of emotions in a few lines does not come easy. But Singh always made her gifts look and sound effortless, smiling frequently and easily as she swayed behind a microphone. When news broke, last morning, that Singh, who founded and fronted Kolkata bands, Skinny Alley and PINKNOISE, had passed away in Chennai after a prolonged illness, there was only one thing to do —listen to her again.
Growing up in Kolkata, I had seen only two women rock a microphone with pizzazz — Usha Uthup and Singh. Singh's mentor and guru, the famous Pam Crain, was much before my time; Uthup was a delight to watch in her Kanjeevaram saris and gajras, but it was Singh and Skinny Alley who made an entire generation want to be like them. The band, comprising Singh, her husband and bassist Gyan Singh, Datta on guitars, Jeffrey Menezes on keyboards, and Jeremy Rikh on drums, had been performing together since the 1970s. A hit on the live scene, they only brought out their debut album, Escape the Roar, in January 2003; a heady mix of rock with bluesy and edgy riffs. While the first track, the immensely hummable Fence, gained popularity on the radio, MTV and Channel [V], the album was replete with quiet gems like Used to be mine, and Hey Hey, songs that captured the anxiety of urban life.
In 2006, Singh, Gyan, Datta and the teenage Jivraj, came together as PINKNOISE, switching from a classic rock sound to something more experimental. In a 2008 interview with The Indian Express, she talked about the happy domesticity her life had offered her: dinner and music practice were under the same roof. "One evening, three years ago, Gyan came back from work (he managed a hotel in central Kolkata) and we heard Jiver playing. We walked in and just caught on with the jam," she said. Soon enough, so did the rest of us, as the Singh family and Datta performed extensively at music festivals that were mushrooming all over India in the late 2000s.
Watching Singh perform was always an exhilarating experience. There was never any of that showboating that plagues so many singers, just an unabashed zest for the music. Born into an Iyer family, Singh had fleetingly trained in Carnatic classical before her father asked her to give it up, and try western music. It was her work with PINKNOISE that truly illuminated her vocal range: she could go from melisma to scat in a second.
I met Singh at a gig in July 2014, two years after Gyan had lost his battle with cancer. She was warm, friendly and genuine as always, but she didn't glow as bright as before; the loss had been hard to bear. Singh's sudden passing will also be difficult to come to terms with, but she is reunited with her best friend and soulmate. Look up tonight, there'll be a great gig in the sky.