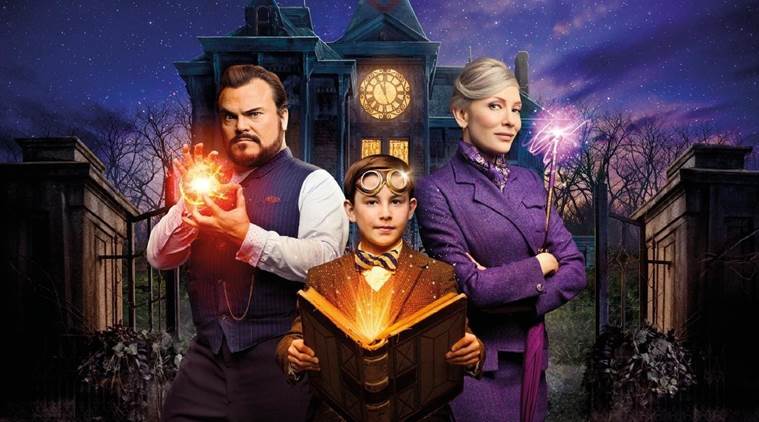 The House with a Clock in Its Walls movie review: Jack Black, Cate Blanchett can't rescue this lifeless film
The House with a Clock in Its Walls movie cast: Jack Black, Cate Blanchett, Owen Vaccaro, Kyle MacLachlan
The House with a Clock in Its Walls movie director: Eli Roth
The House with a Clock in Its Walls movie rating: 1 star
The young child star of The House With a Clock In Its Walls wears a bow tie almost every waking day to school, and flings a robe over his pajamas before stepping out of his room to explore when things go thud at night. Granted it's 1955, but in a film flirting with both horror and magic like this one, it's hard to spot either in Owen Vaccaro's struggling Lewis.
But this lifeless film even fails veterans like Black and Blanchett. You keep looking at them pointedly to see if they are playing the entire thing about a haunted house, a dead evil magician, a doomsday clock, a grass lion, some devilish Halloween pumpkins, and even World War II trauma, for laughs. However, no, it is all quite serious, and all quite boring — though there is a flash once of what Blanchett would rather be doing as she pumps her magic umbrella devilishly, just like one would a mosquito repellant, to get rid of some ghosts.
Lewis' parents die in a car crash, forcing him to move to this magic/haunted house inhabited by his uncle Jonathan (Black). Jonathan's friend and neighbour Florence (Blanchett) is at all times present in the house, and while Jonathan is a wizard, she is a better witch. This may be Harry Potteresque territory — though the film is based on a novel of the 1970s vintage — but it is not these two adults who make Lewis's life miserable but the evil dead magician played by MacLachlan.
And it's all downhill from there on.