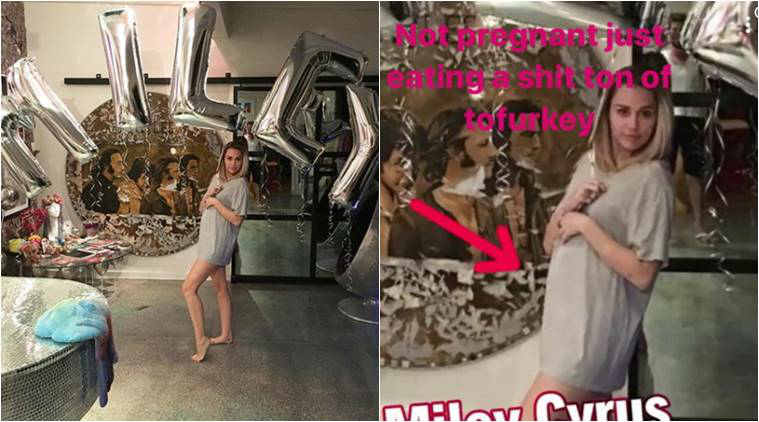 Singer Miley Cyrus responds to pregnancy rumours
Miley Cyrus is "not" pregnant and the words are coming straight from the horse's mouth. The 25-year-old singer silenced pregnancy buzz stemming from a photo that some claimed showed a baby "bump," dismissing them as "rude."
"RUDE!!!" the 'Malibu' hit-maker responded on Twitter to the rumours. "Not pregnant just eating a s**t ton of tofurkey."
She posted the caption alongside the original photo of herself with the headline – "Miley Cyrus Pregnant? Fans go wild after singer posts pic showing 'bump' ahead of Thanksgiving."
She had captioned the photo she had posted initially as, "So close to b-day time! Stoked for a day full of Tofurkey and loved ones! Ain't it ironic? #VeganTurkeyBaby"
Fans began speculating about Miley's pregnancy after she has shared a picture on Instagram on Wednesday. She looked like having a small bump around the belly. Fans speculated that Miley Cyrus and her boyfriend Liam Hemsworth are all set to become parents as they are already high in love!
RUDE!!! Not pregnant just eating a shit ton of tufurkey pic.twitter.com/rjNjquxvLb

— Miley Ray Cyrus (@MileyCyrus) November 23, 2017
.
.
Miley also celebrated her 25th birthday on November 23 that was also the "Thanksgiving Day". Miley could hardly resist flaunting her birthday gift given by Liam Hemswroth and posted a picture of the gold pendant and captioned it, "My mannnnnn's already winnin & it ain't even my bday yet! Rainbow LiLi is soooo frigggggen cute."
(With ANI inputs)