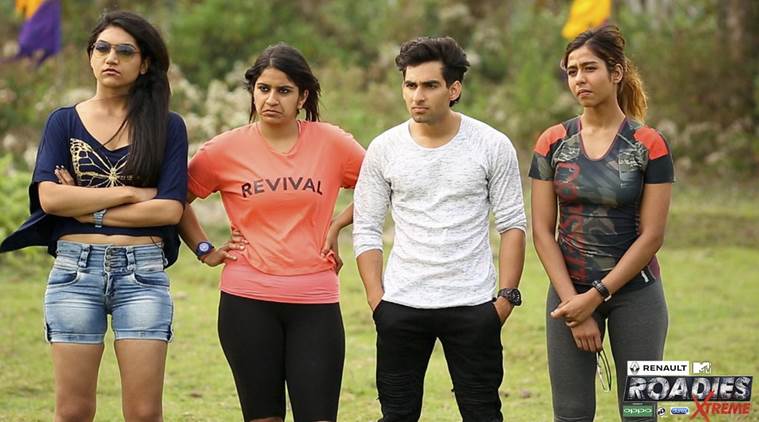 Roadies Xtreme: Shuffling of gang members and double eviction to add excitement in the next episode
Roadies Xtreme is all set to add some extremely exciting twists in its upcoming episode. Mentored by Rannvijay Singha, the adventure reality show saw the entry of two wild cards Sharan Sobhani and Abhishek Dubey in its last episode. And now the gangs will have to bear the brunt of the same, when there will be a shuffling of members, much to the dismay of the gang leaders Prince Narula, Neha Dhupia, Raftaar and Nikhil Chinapa.
The six contestants, who lost in the previous task and the two wild cards, will be put up for auction and all gang leaders will be asked to bet on them. Rannvijay will further add a twist, which will make the task really difficult for them. With Nikhil and Neha having the most amount of money to rake in their favourites, Raftaar will decided to play smartly to pad up his fading team. The ones in the auction will be Sharan, Abhishek, Kashish Thakur, Subhada Nishtala, Rohan Hingorani, Geetika Sood, Nishkarsh Arora and Iram Khan. It will be interesting to see, who finally ends in whose gang.
Watch Roadies Xtreme's teaser of the next episode here:
The bet is on in the next episode of @RenaultIndia MTV #RoadiesXtreme.
Who will the #GangLeaders lay their bets on? Will the gangs be swapped? Which #Roadie will be left out?
Catch all the fun, action & drama, this Sunday at 7 PM, only on MTV.@oppo F7 @DurexIndia @IDFootwear_ pic.twitter.com/hZAqIHsozA

— MTV Roadies (@MTVRoadies) June 20, 2018
Sharan and Abhishek are here and so is all the drama and confrontations. What happens next on #RoadiesXtreme? pic.twitter.com/NkoMlmkRyc

— MTV Roadies (@MTVRoadies) June 17, 2018
And if that isn't enough, when the members will arrive for a vote out, Rannvijay will shock them by sharing that this time there will be a double eviction. Also, the vote outs will happen between alliances. Prince and Nikhil's gang will have to chuck one out among them, while Neha and Raftaar's team will have to do the same between them. This will create a rage among the teams and they will end up fighting among themselves.
The thrilling episode will air this Sunday, 7 pm on MTV.
© IE Online Media Services Pvt Ltd