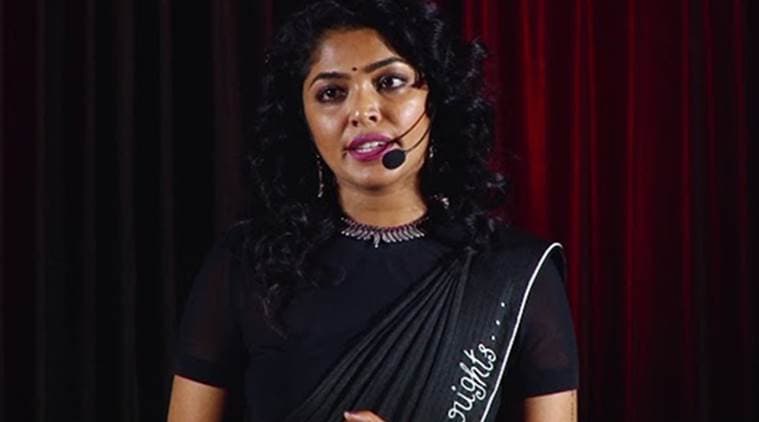 Malayalam actor Rima Kallingal's speech on feminism is powerful
Popular talk show host Oprah Winfrey swept people off their feet worldwide with her powerful speech at Golden Globe awards recently. Her speech was so 'presidential' that many suggested she should run for the President's office in the next elections. As the world celebrated Oprah's speech, Malayalam actor Rima Kallingal's equally passionate and powerful observation on the similar subject surprisingly escaped our attention.
Rima made her speech on the blatant discrimination and ill-treatment faced by women in the Malayalam film industry, days before Oprah spoke about the racial injustice and sexual abuse at the award ceremony.
Rima, who is currently a prominent member of Women in Cinema Collective, spoke of the prejudice she faced for being women at every step of her life and how she fought back and continues to fight against it.
She also narrated a few episodes from her life that shaped the feminist in her to demand equality in society and the industry she works in. "When I walked into this film industry I was greeted with words like shelf-life, adjust, compromise, smile more. But most often to dumb down," she revealed at the TEDx Talk, which was held in Thiruvananthapuram recently.
Watch Malayalam actor Rima Kallingal's speech on feminism here:
"But then the question remains. How long do you dumb down? How long do you stay silent? And what does it take to break your silence?" she asked.
She said the attack on her friend that took place in February last year was the last straw that broke her silence. She was referring to the abduction and sexual assault of a popular woman actor by a group of thugs, who were allegedly acting at the behest of movie star Dileep.
"In spite of knowing all the consequences of going ahead and pressing charges herself, she demanded the justice that she deserved. I think she broke every single convention and stereotype that was associated with a woman in her situation. And that is what it took to break my silence. And that opened a Pandora's box of questions and we are seeking answers," Rima observed.
Rima ended the speech on a similar note to Oprah. Both the ladies doubled down on the new ray of hope that emerges from the momentum that is making waves in their respective industries.
"So I want all the girls watching here and now to know that a new day is on the horizon! And when that new day finally dawns, it will be because of a lot of magnificent women, many of whom are right here in this room tonight, and some pretty phenomenal men, fighting hard to make sure that they become the leaders who take us to the time when nobody ever has to say "me too" again," said Oprah.
"We at least live at a time where we can actually ask for the fish fries if we think we deserve it. We need to seize this moment and sow the seeds of change," said Rima.
She even borrowed a powerful dialogue from iconic film Thevar Magan to close her speech on an impactful note. "We sow the seeds today and they will reap the fruits tomorrow and then it will be their daughters and their daughters. We might not be around to see it, but we will be the one who sowed the seeds for them. This is a call of duty for us and our questions are our seeds of change. Let us all come together and promise to ask all the questions that our past generations could not ask so that our future generations will not have to ask them," she signed off.
© IE Online Media Services Pvt Ltd