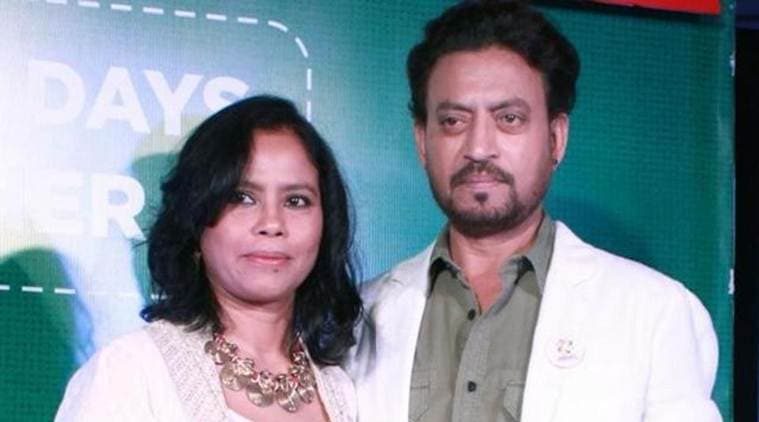 Irrfan Khan's wife on his health: Let's not waste our precious energies to only know what it is
Irrfan Khan's health has been a matter of concern for his many fans ever since he tweeted about his 'rare disease'. Also, the rumours about him suffering from brain cancer and being admitted to Mumbai's Kokilaben Hospital got circulated on social media. While hospital officials already refuted the rumours, Irrfan's wife Sutapa Sikdar has now issued a statement about her husband's health. In the statement posted on her Facebook account, the actor's wife thanked Irrfan's fans for their good wishes and their concern but also urged them to stop speculating about the disease Irrfan is suffering from. She wrote, "Let's not waste our precious energies to only know what it is."
"My best friend and my partner is a 'warrior' he is fighting every obstacle with tremendous grace and beauty. I apologize for not answering calls msgs, but I want all of you to know I am truly humbled indebted forever for the wishes prayers and concern from all over the world," wrote Sutapa. She continued by writing, "My humble request to all of you is to concentrate on the song of life, to dance of life to victory. My family will soon join in this dance of life. Thank you all from bottom of our heart."
Read the full post here:
Irrfan on Monday left his fans concerned about their favourite star's health as he tweeted, "Sometimes you wake up with a jolt with life-shaking you up. The last 15 days, my life has been a suspense story. Little had I known that my search for rare stories would make me find a rare disease."
— Irrfan (@irrfank) March 5, 2018
Before his wife Sutapa, Irrfan's industry friends and colleagues including Sonam Kapoor and Nimrat Kaur also urged people to put all the speculations to rest and respect the actor's privacy.
Yes please just leave him be. http://t.co/XTYEWdbG78

— Sonam Kapoor (@sonamakapoor) March 7, 2018
— Nimrat Kaur (@NimratOfficial) March 7, 2018
Dear Sensitivity….are you soon becoming extinct? You were best friends with instinct…why did you fall apart? And why have you lost yourself to technology and social media ….get back to your old self please! Love….Humanity

— Karan Johar (@karanjohar) March 7, 2018
On the work front, Irrfan has a movie titled Blackmail releasing on April 6. Directed by Abhinay Deol, the film also stars Kirti Kulhari and Divya Dutta in pivotal roles. Also, Vishal Bhardwaj has put his next with the actor on hold in wake of the ill health of the lead actor of his film.
© IE Online Media Services Pvt Ltd