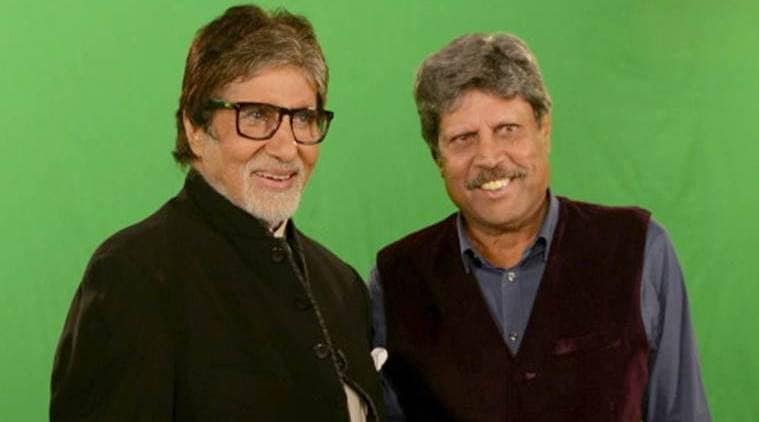 IPL 2018: Amitabh Bachchan and Kapil Dev film a special segment for the event
Amitabh Bachchan has geared up to promote his upcoming film 102 Not Out like nobody's business. The film will see him sharing screen space with Rishi Kapoor after decades. The actor is going to launch the next song from the film, titled Badumbaa, for which Big B has stepped into the shoes of a rapper while Rishi Kapoor will debut as a singer with the number. The song would be played during the on-going Indian Premier League 2018 where Amitabh Bachchan would indulge in a conversation with the legendary cricketer Kapil Dev.
The duo shot for a special episode and onlookers just couldn't stop gushing about what transpired. Kapil Dev turned into the interviewer as he interviewed Senior Bachchan about his Bollywood journey and his upcoming film, 102 Not Out.
The conversation started with the actor talking about his journey in Bollywood and ended with Kapil Dev spilling the beans about his school and college days. Those present on the sets revealed, "When Mr Bachchan was talking about his journey, Kapil Dev was quick to disclose that he used to bunk school in order to watch him on the silver screen."
Describing the experience of being interviewed by a legend himself, Big B wrote on his blog, "A few legendary gentlemen of the game of gentlemen cricket .. chatting, questioning and just generally getting to know each other through the IPL tournament, and through our several encounters with each other – the iconic Kapil Dev, a world leader in the game and a master of his craft…"
He also mentioned that he had a fan moment on the sets, "and now this little fellow .. a star .. I see his ad., campaign for the IPL and am in awe of him .. and there he is in front of me .. this little champ so cute and humble and a delight to talk to ..
Meet Sahil .."
102 Not Out has been directed by Umesh Shukla, and will hit the big screen on May 4, 2018.
© IE Online Media Services Pvt Ltd