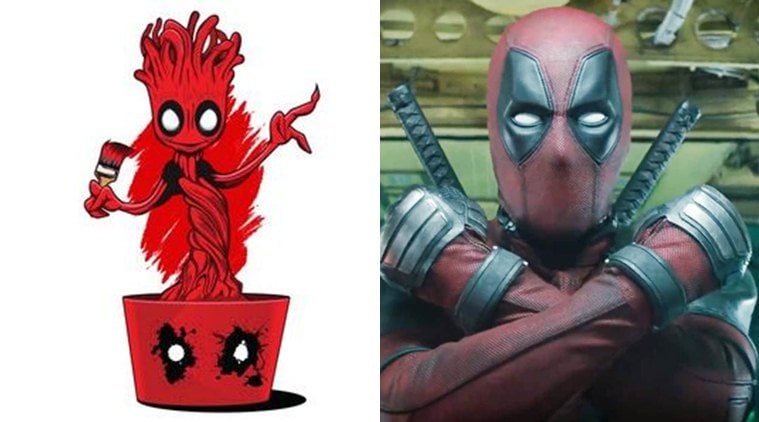 Guardians of the Galaxy director James Gunn congratulates Ryan Reynolds for Deadpool 2's success in an adorable way
James Gunn, known for directing Guardians of the Galaxy films in Marvel Cinematic Universe, has congratulated Ryan Reynolds and the team behind Deadpool 2 for a sterling performance on its opening weekend. Deadpool 2 scraped up 125 million dollars on the three day weekend, unseating Avengers: Infinity War from the top place. This may not look like much in front of Infinity War's 257.6 million dollar opening but Deadpool is an R-Rated film and they tend to have a much smaller audience. James Gunn posted the picture of Groot, a fan-favourite character that appears in the Guardians of the Galaxy films directed by him, in the scarlet colours of Deadpool.
Groot first appeared in the first Guardians of the Galaxy film as an adult tree-like sentient creature. At the end of the film, he sacrificed himself and in his place, a new Groot, Baby Groot, was born who, Gunn made clear, was a different being. Baby Groot was a major character in the second Guardians of the Galaxy film and was adored by fans. Of course, seeing him totally Deapool-y is quite disconcerting how cute and innocent he is.
Deadpool 2 has also received highly positive reviews. It holds an 83% rating at Rotten Tomatoes. The consensus reads, "Though it threatens to buckle under the weight of its meta gags, Deadpool 2 is a gory, gleeful lampoon of the superhero genre buoyed by Ryan Reynolds' undeniable charm."
Enormous congrats to @VancityReynolds, @DavidMLeitch, @RhettReese, @missmorenab & company on Deadpool 2 opening to what looks like over $130 million this weekend. Keep the fun stuff coming! pic.twitter.com/gRk3MGFmkA

— James Gunn (@JamesGunn) May 19, 2018
The film continues the story of depraved anti-hero and this time he is not alone in his crazy adventures. To fight the time-travelling mutant soldier Cable, he forms a group with fellow mutants called X-Force. Cable's target is a kid. He knows something about him since he is from the future. At least that is what the trailers suggest. But the plot may be totally different and Cable may even turn out to be a good guy – or whatever passes for good in the Deadpool universe.
© IE Online Media Services Pvt Ltd