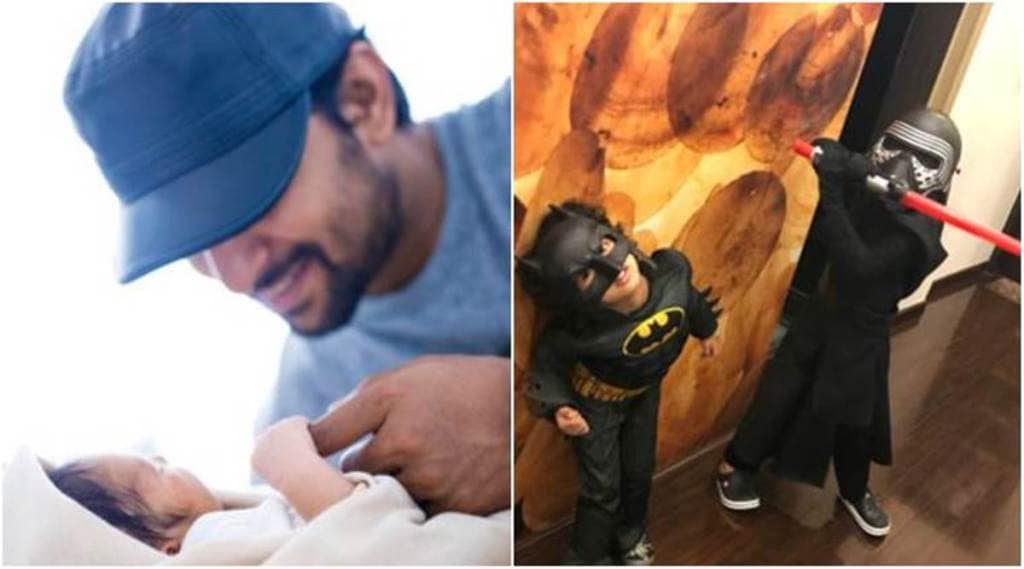 From Nani to Jayam Ravi, south Indian actors post adorable photos on Children's Day
On the occasion of Children's Day, south Indian actors are celebrating the innocence of their children by posting some very heartwarming photos of social media. Telugu actor Nani, who is prepping up for the release of MCA, posted an adorable picture of his baby boy. The actor shared the perfect moment of the little one holding his finger. We are sure this picture would melt your heart. Along with the picture Nani wrote, "Happy Children's Day".
Sai Dharam Tej, who is working on the release of his next film Jawaan, posted a heart wrenching picture of a little girl. In the picture, we see the little one balancing between responsibilities and her studies. He wrote, "Multitasking is sometimes difficult for adults….but for this kid in particular it's like child's play…. #HappyChildrensDay"
Veteran actor Mohan Babu shared picture from an institution. He wrote, "Children are important asset and future of any nation. It must be utmost priority to provide them with nourishment and education. It is every citizen's duty to safeguard Children's rights. #HappyChildrensDay"
Kajal Aggarwal tweeted, "A special tribute to the man on whose name we celebrate #ChildrensDay, Pandit JawaharLal Nehru!! #HappyChildrensDay to the future of our nation and all of us who preserve the little child within us :)"
Vishnu Manchu shared a picture with children and wished a very happy Children's Day.
Nikhil Siddhartha gave a throwback to his childhood.
One of the cutest pictures was posted by Tik Tik Tik actor Jayam Ravi. He posted picture of his two kids dressed in DC characters. He wrote, "Let me love you a little more before you're not little anymore.. Happy children's day to our future ❤️Let's take it upon ourselves to leave a better world for them."
To Every Child in us…#HappyChildrensDay pic.twitter.com/TaCaynDGxj

— Vishnu Manchu (@iVishnuManchu) November 14, 2017
Children are important asset and future of any nation. It must be utmost priority to provide them with nourishment and education. It is every citizen's duty to safeguard Children's rights. #HappyChildrensDay pic.twitter.com/DIZ6WlWQn5

— Mohan Babu M (@themohanbabu) November 14, 2017
Let me love you a little more before you're not little anymore.. Happy children's day to our future ❤️Let's take it upon ourselves to leave a better world for them. pic.twitter.com/rgZxh6MSDM

— Jayam Ravi (@actor_jayamravi) November 14, 2017
Booo😃
Guess who photo Bombed 😉 #HappyChildrensDay #JabMeinChotaBacchaTha 🙌 pic.twitter.com/qlL7N6H85d

— Nikhil Siddhartha (@actor_Nikhil) November 14, 2017
Multitasking is sometimes difficult for adults….but for this kid in particular it's like child's play…. #HappyChildrensDay pic.twitter.com/hZDq2dIwsE

— Sai Dharam Tej (@IamSaiDharamTej) November 14, 2017
A special tribute to the man on whose name we celebrate #ChildrensDay, Pandit JawaharLal Nehru!!#HappyChildrensDay to the future of our nation and all of us who preserve the little child within us :)

— Kajal Aggarwal (@MsKajalAggarwal) November 14, 2017
And it is not just us but also Aval actor Siddharth who found this picture adorable. He retweeted the picture and wrote, "they've already managed a DC and Lucasfilm universe multistarrer in this pic. They are the force we deserve!"
© IE Online Media Services Pvt Ltd