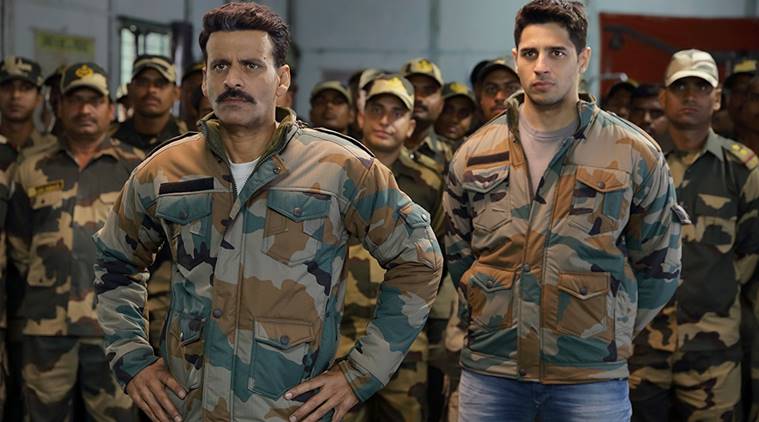 EXCLUSIVE Manoj Bajpayee on working with younger actors: Just by observing them you can learn so much
Manoj Bajpayee has almost become an integral part of Neeraj Pandey films. Be it Special 26 or Naam Shabana, or even a short film Ouch in between, Manoj and Neeraj have struck a close bond, and this only gets stronger in their upcoming film Aiyaary, where Manoj plays Colonel Abhay Singh. During one of the promotionals in capital New Delhi, Manoj got into an exclusive chat with indianexpress.com. The powerhouse performer explained what according to him is the actual 'Neeraj Pandey kind of film.' "If you say Special 26 and A Wednesday is his kind, then what is Ouch? Somewhere Neeraj has the ability to surprise you with the craft of storytelling which is very new. I don't see it at all happening (elsewhere)," he said.
Aiyaary, which also stars Sidharth Malhotra, Rakul Preet Singh, Adil Hussain, Naseeruddin Shah, Anupam Kher and Kumud Mishra, is the story about two army officers – a mentor and a protege, who have a fallout when one of them decides to turn rogue. Here, Manoj plays the mentor and Sidharth, his protege. Commenting on how Neeraj's films don't follow the stereotypical formula in Bollywood, Manoj said, "He doesn't succumb to all those stereotypical mainstream formula but still manages to intrigue you with a story which is so unique. Every time we work, not even one line (in the script) is wasted. So that doesn't give you the liberty to go ahead and add your own few things because when he is writing each and every word, even the formation of dialogue is such that you can't really change it. You know, I have tried many times to change the formation, but it didn't work."
When asked what he learns working with the younger lot of actors in his films, Manoj quipped, "How to compete with them by staying young! That's a tough task (laughs)." On a serious note, he explains, "This generation is supposed to do various things that we were not. We really had to work hard to find one information. And here they are who have grown up watching world cinema, their knowledge is immense. I really feel they are far ahead when it comes to information and knowledge. Sitting with them, observing them, once you just surrender to them, you learn so much, you suddenly realise that you have to know so much. Though there is no comparison but what we can do is, we can up our game when it comes to learning few things from them."
Aiyaary shifted its release date twice, first to avert a clash with PadMan, and later because it failed to receive a CBFC certificate on time. From its initial Republic day release, it is now arriving on Valentine's Day. Manoj's analysis of such a situation is worth taking note. "The biggest learning for me is you have to be ready for any kind of eventuality. If that eventuality starts staring at your face then you have to think out of box, you have to up your game. So for me this has been a big learning. You can never say that this is it, there might be something else, really waiting for you to challenge you and all your creativities and marketing plans," he shared.
Aiyaary releases on February 16.
© IE Online Media Services Pvt Ltd