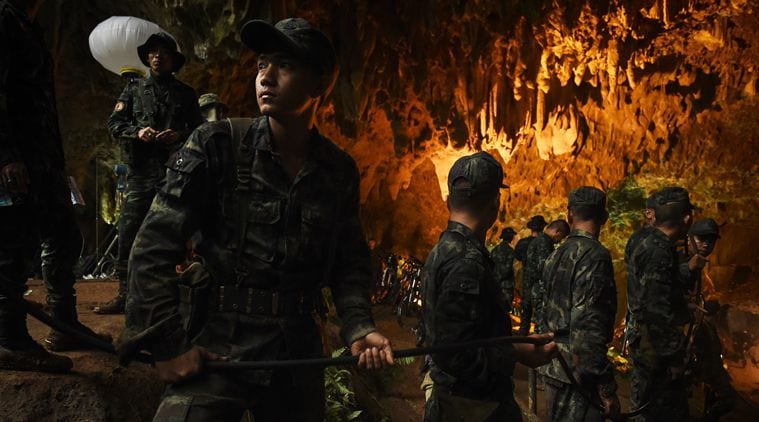 Discovery Channel to air documentary on Thai cave rescue
Discovery Channel is all set to air Operation Thai Cave Rescue which is a documentary on the extraordinary rescue of young football players from Tham Luang cave in Thailand. On June 23, 12 boys of the Wild Boars team went to explore the caves with their football coach in Chiang Rai province that borders Myanmar. After heavy rain flooded the caves, they went deeper. After a massive operation involving the Thai Navy Seals, the national police, drones, local volunteers and so on, all the boys were evacuated alive albeit with minor injuries. Tragically, a 37-year-old Navy SEAL officer Saman Kunan died.
The documentary Operation Thai Cave Rescue will delve into the burning questions the general public has regarding the disappearance, the operation and the final rescue. The story is certainly Hollywood-friendly. And it is only a matter of time before a movie comes out. As we speak, there are already two movies in works.
The Discovery Channel's synopsis of Operation Thai Cave Rescue reads, "Produced in association with ITN Productions, Discovery's OPERATION THAI CAVE RESCUE unpacks the human and scientific drama behind one of the most difficult and heart-palpitating rescues attempted in human history. With exclusive early access to men and women – including family members – who have been living and breathing the events, OPERATION THAI CAVE RESCUE focuses on the triumph of the human spirit and the extraordinary scientific and technological innovations used to complete this miracle rescue. As the clock continues to tick, and predicted Monsoon rains loom above, rescuers in the cave and above ground, plot their next move. Featuring interviews with medical and mental health experts, renowned cave diving instructors and the world's leading cave diving rescue experts, the film paints a full picture of what the boys and their rescuers were experiencing and how these heroic divers could recover what was thought initially to be an impossible feat."
Operation Thai Cave Rescue will air on July 20 at 9 pm on Discovery Channel, Discovery HD World, Discovery Turbo and Discovery Science.
© IE Online Media Services Pvt Ltd