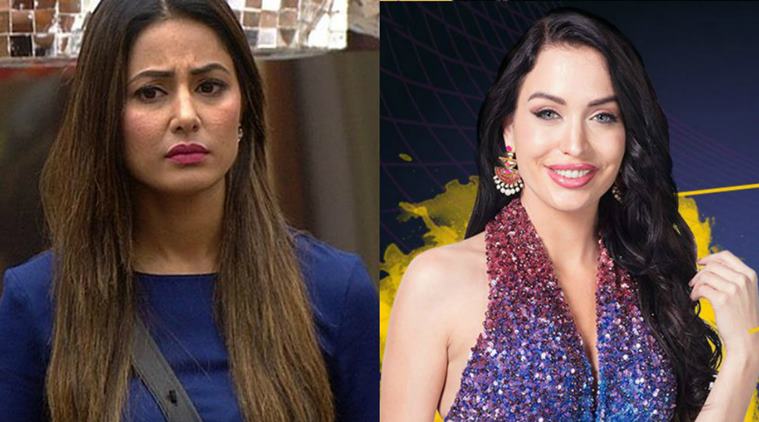 Bigg Boss 11 October 16, 2017 written updates: Lucinda Nicholas is out, Hina Khan among nominated contestants
Missed last night's episode of Bigg Boss? Read all the highlights from the 15th episode of India's most controversial reality show Bigg Boss 11 aired on Colors.
Bigg Boss announces a punishment for the padosis for failing in the secret task.
Contestants gets the opportunity to evict one padosi.
Contestants must break the flask of that padosi who had contributed less in the secret task assigned by Bigg Boss.
Padosis try and convince Gharwale to save themselves from the eviction.
Sabyasachi Satpathy nominates Luv Tyagi.
Shilpa Shinde breaks the flask of Lucinda Nicholas and gives the reason that this is an Indian show and she doesn't fit here.
Arshi Khan and Hitain nominate Luv Tyagi.
Bandigi Kalra and Akash Dadlani also nominate Lucinda Nicholas.
Lucinda Nicholas cries in front of Puneesh Sharma. She pleads with him to save her.
While Puneesh Sharma nominates Lucinda Nicholas, Benafsha Sonawalla nominates Luv Tyagi as she wants to save Lucinda from the eviction.
Hina Khan and Sapna Chaudhary nominate Lucinda Nicholas.
Sapna Chaudhary gives the reason that there is a communication problem between them and gives an offer to Lucinda Nicholas to marry her brother as she is very pretty .
Luv Tyagi and Arshi Khan get into an argument as Arshi didn't stick by her words of saving Luv from the eviction.
While Jyoti Kumari nominated Luv Tyagi, Mehjabi Siddiqui nominates Lucinda Nicholas as she wants to give Luv a chance.
Vikas Gupta tries to clear his issues with Hina Khan. He apologises for his overreaction.
Luv Tyagi nominates Lucinda Nicholas. Lucinda returns the favour.
Lucinda Nicholas gets evicted from the house. Luv thanks everyone for saving him from the eviction
Vikas Gupta gets saved from the nomination and gets the power to nominate seven contestants for the eviction.
Sapna Chaudhary, Shilpa Shinde, Hina Khan, Puneesh Sharma, Mehjabi Siddiqui, Luv Tyagi and Akash Dadlani are the seven names which was given by the captain (Vikas Gupta) and contestants have to nominate two contestants from this list.
Hina Khan gets nominated with eight votes, whereas Sapna Chaudhary and Puneesh Sharma get four votes. Akash Dadlani and Luv Tyagi get three votes.
Akash Dadlani gets angry with Vikas Gupta because the reason given by Vikas for nominating Akash was not right.