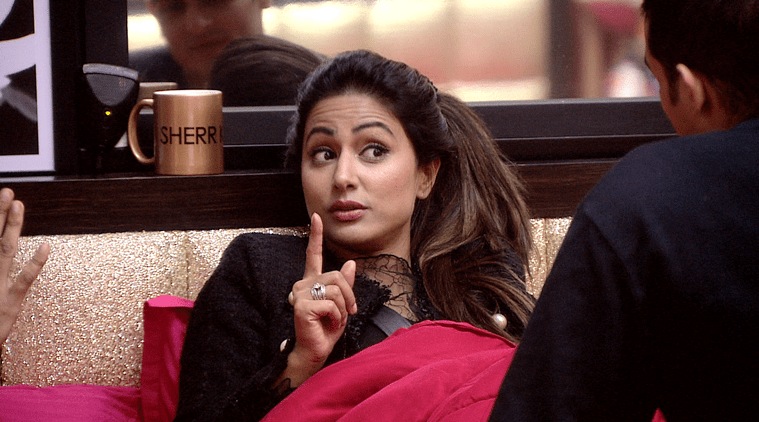 Bigg Boss 11 December 14 2017 full episode written update: Shilpa and Hina fight over tap water
Missed last night's Bigg Boss 11 episode? Read all the highlights from the latest episode of India's most controversial reality show aired on Colors.
Bigg Boss continues with Vikas complaining to Hiten about the use of his pet name in the task.
Arshi tells Priyank and Hina that Vikas is upset with Priyank.
Priyank tells Arshi that he is grateful for Vikas.
Arshi tries to calm Vikas down by telling him that Priyank loves him.
Vikas gets hyper and says he will slap Priyank and he does all this for cameras.
Vikas warns Priyank not to use his mother and family in the game.
Hiten tries to make Vikas understand that Priyank's intentions were not bad and he didn't mean that.
Priyank apologises to Vikas for everything.
Vikas stops him and says not to do this for cameras.
Hina says to Akash that she doesn't understand why Vikas is doing all this.
Hina laughs at Vikas and Vikas calls Hina "Vamp".
Arshi tells Akash not to sleep.
Akash tells Arshi not to tell him what to do as she is with Shilpa now.
Shilpa blames Arshi for Akash's behaviour.
Arshi gets offended.
Bigg Boss asks Arshi to give one name for jail's punishment.
Contestants nominate Hiten and Priyank for the jail.
Priyank says to Luv that he wants Vikas to perform poorly in the show.
Bigg Boss gives three housemates a chance to watch clips in which inmates have said bad things about them.
As the captain of the house, Arshi gets the chance. She also gets the chance to select two more housemates who can watch the clips.
Everybody tries to convince Arshi to select them.
Vikas and Hina are selected for the opportunity.
Arshi and Shilpa fight in the kitchen about food.
Arshi tells Hina that Shilpa uses tap water while cooking the food.
Hina gets shocked and asks Shilpa not to use tap water as her stomach gets upset.
Hina asks Shilpa to change her duty as she will not cook food.
Shilpa and Hina get into an argument.
Shilpa cries in the washroom. Vikas tries to calm her down and says she doesn't look good while crying.
Puneesh suggests Shilpa to change her duty.
Arshi sees the clip in which Hina is discussing about Arshi's clothes with Luv.
Arshi tells everyone what she saw in the clip.
Vikas says how can Hina talk about this with boys.
Hina sees her clip in which Shilpa made fun of her crying. Shilps also said Hina needs someone to pamper her in the show.
Hina cries while watching the clips.
© IE Online Media Services Pvt Ltd