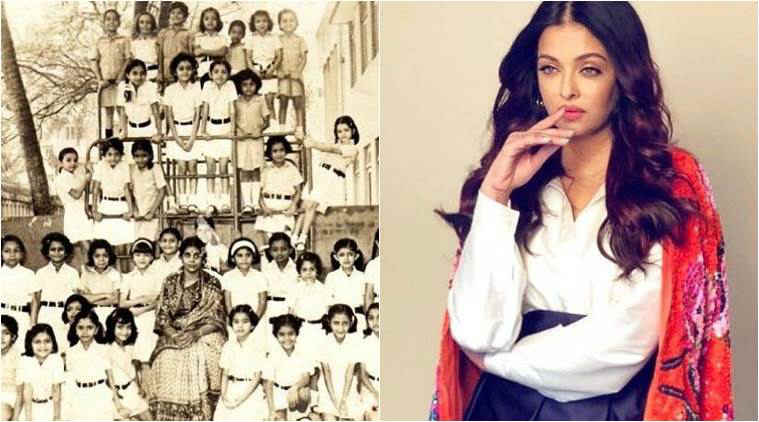 Aishwarya Rai Bachchan goes on a throwback trip, posts adorable childhood photos
Aishwarya Rai Bachchan has ruled our hearts for years, not only for being a spectacular actor but also for being the perfect personification of beauty. The actor, who refrained to come on social media for quite some time, made her debut on Instagram and since then, her posts have been keeping her fans excited and managing to grab headlines too. Now, the actor has posted two of her childhood photographs, giving a throwback to her school time. While spotting the beauty queen could be a task in the group photo, if looked closely, you will know the one with the brightest smile and beautiful eyes is Aishwarya!
One of the pictures is when Aishwarya was in Montessori while the other is when the actor was six-year-old, just as young as Aaradhya.
During her Cannes visit, Aishwarya shared pictures with Aaradhya gave a perfect dose of the bond between a mother and a daughter.
At the film festival, the actor also spoke about her career choices and how she feels she should have been more fierce about taking up projects.
"I think I was very school girlish in my choices… I was very good at keeping with schedules, and because of that I kind of walked away from some very great films and opportunities… because I would be sincere to schedules. Now when I think back, I should have maybe been more fierce and aggressive with wanting the films and allowed the schedules to figure themselves out as I have seen a lot of colleagues have worked over the years," Aishwarya told a group of media in a video interaction from Cannes.
On the work front, Aishwarya will be seen in Fanne Khan alongside Anil Kapoor and Rajkummar Rao.
© IE Online Media Services Pvt Ltd