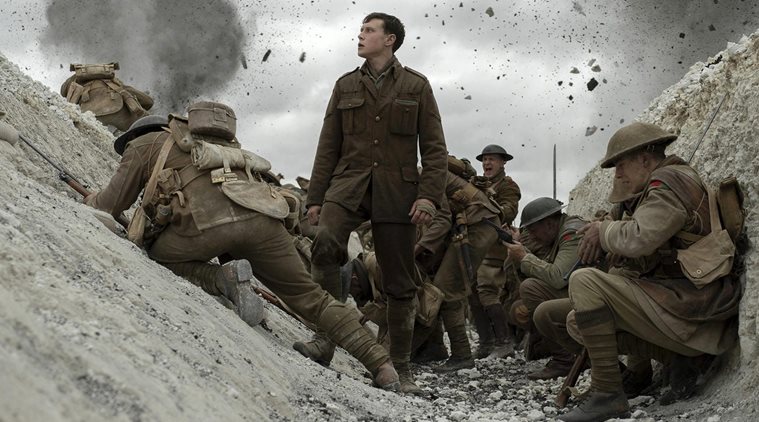 The first reactions to Sam Mendes' war epic 1917 are in, and it appears the British director, known for films like American Beauty and Skyfall, has created a masterpiece.
Those who have seen the film are downright thrilled, and expressions like "a stunning cinematic achievement", "cinematic roller-coaster ride" and "hypnotic" are being thrown around.
As the title says, the film is set in 1917. Two British soldiers, played by George MacKay and Dean-Charles Chapman, are commanded by Colin Firth's officer to deliver a piece of information deep into the enemy territory to save 1,600 men, including the brother of Chapman's character.
MacKay, Chapman play main roles while Mark Strong, Andrew Scott, Richard Madden, Claire Duburcq, with Firth and Benedict Cumberbatch make up the supporting cast.
The film already had a positive buzz thanks to stunning looking trailers. Oscar-winning cinematographer Roger Deakins has handled the camera, so that was to be expected.
Collider's Steven Weintraub tweeted, "I've seen a lot of movies and know how they are made and I have zero idea how Sam Mendes and Roger Deakins pulled off the cinematography in #1917. It's a stunning cinematic achievement and easily the front runner for the Oscar in cinematography. Mind blown."
He added, "From the second #1917 starts to the final frame, it's a total immersion into another time and place and it's just a stunning movie on every level. Another 2019 film that absolutely blew me away. See this on the biggest screen you can."
Filmmaker Edgar Wright wrote, "'1917' is a thrilling, immersive, emotional journey into the heart of war. It's exceptional on a technical level, yet frequently stunning in its simplicity. Sam Mendes and DP Roger Deakin (along with their crew) created a hypnotic cinema experience that is both riveting and moving."
Fandango's Erik Davis tweeted, "#1917 is a tremendous piece of filmmaking. Bold in its storytelling, masterful in its execution- it's thrilling and emotional and I could not take my eyes off the screen from the second it began to the second it ended. The very definition of a film you MUST see on the big screen. Wow."
The Hollywood Reporter's Scott Feinberg said, "Mendes' excellent 1917 joins the race: Almost unfathomable that cinematographer Deakins and production designer Gassner don't win second Oscars and composer Newman doesn't win Oscar #1. Pic, director, original screenplay noms almost certain, wins possible. Acting noms possible."
1917 hits theatres on December 25.