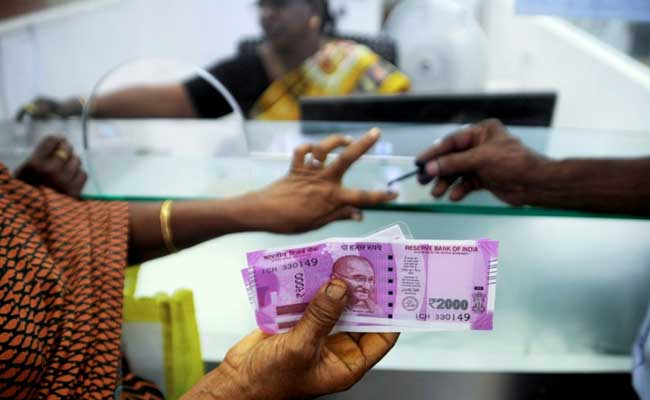 Rupee Retreats From 16-Month High; Ends At 65.46 Against Dollar
Mumbai:
The rupee on Friday retreated from 16-month high level to close down by 5 paise at 65.46 against the US currency on dollar demand from importers and suspected RBI intervention, ending its four-day dream run.
The rupee had surged to a 16-month high of 65.41 per dollar yesterday after a four-day rally in the currency stoked by the BJP's win in the key state of Uttar Pradesh.
A suspected RBI's intervention to curb speculative trades in the rupee weighed on the trade, a forex dealer said.


The home unit opened lower at 65.45 compared to previous close of 65.41 at the Interbank Foreign Exchange (FOREX) market.

It immediately depreciated sharply to hit an intra-day low of 65.65 and largely moved in a tight range throughout the session with high amount of volatility.

However, the local unit managed to retrieve lost ground in late afternoon trade and ended at 65.46, showing a loss of 5 paise, or 0.08 per cent.

The RBI fixed the reference rate for the dollar at 65.5411 and for the euro at 70.607.

The rupee this week has gained a whopping 114 paise on renewed strength in FII buying activity, outperforming its major Asian peers.

The rupee rallied on hopes that the government will accelerate its reform agenda following the BJP's win in Uttar Pradesh and Uttarakhand elections last week.

Foreign funds bought shares worth Rs 1,360.10 crore on net basis yesterday, according to provisional data.

Globally, the dollar traded softer against most of the major currencies after the US Federal Reserve signalled fewer interest rate hikes than some investors had expected.

In cross-currency trade, the rupee continued its downtrend against the British pound to end at 80.88 from 80.21 and dropped against the Japanese yen to finish at 57.85 per 100 yens compared to 57.65 earlier.

The local unit also moved down further against the euro to close at 70.29 compared to 70.15 yesterday.

(This story has not been edited by NDTV staff and is auto-generated from a syndicated feed.)