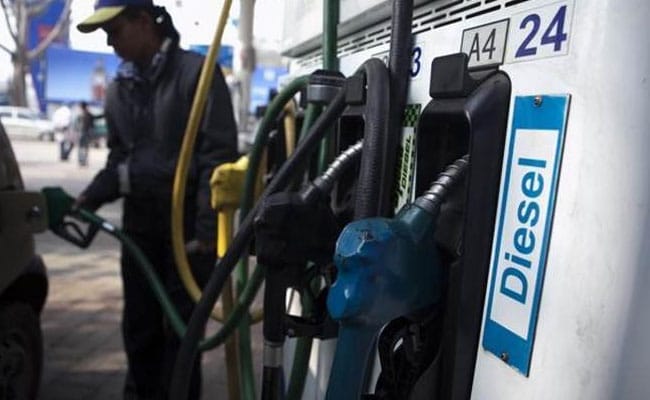 Petrol, Diesel Prices Raised Again, Up Over Rs 2 Per Litre In 9 Days
Petrol and diesel prices were increased for a ninth straight day in Delhi, Kolkata, Mumbai and Chennai, among other cities. These nine hikes come after a
19-day hiatus
ahead of Karnataka elections, when prices were kept unchanged. Petrol prices have been increased by Rs 2.24 per litre in Delhi, Rs 2.21 per litre in Kolkata, Rs 2.22 per litre in Mumbai and Rs 2.36 per litre in Chennai during this 9-day period, data from
Indian Oil Corporation
showed. Diesel prices have been raised by Rs 2.15 per litre, Rs 2 per litre, Rs 2.28 per litre and Rs 2.31 per litre, respectively.
Here are five things to know about petrol and diesel prices today:

1. On Tuesday, petrol prices were hiked in the range of 29-32 paise per litre across Delhi, Kolkata, Mumbai and Chennai, while diesel prices were lifted by 26-28 paise per litre, compared to the previous day.
Petrol price (in Rs per litre)
22-May
21-May
13-May
31-Dec
Delhi
76.57
76.24
74.63
69.97
Kolkata
79.24
78.91
77.32
72.72
Mumbai
84.4
84.07
82.48
77.87
Chennai
79.47
79.13
77.43
72.53
Diesel price (in Rs per litre)
Delhi
76.87
76.57
65.93
59.64
Kolkata
79.53
79.24
68.63
62.3
Mumbai
84.7
84.4
70.2
63.27
Chennai
79.79
79.47
69.56
62.83
(Source: iocl.com)
2. With effect from 6 am, Tuesday, a litre of petrol was sold at Rs 76.87 in Delhi, Rs 79.53 in Kolkata, Rs 84.7 in Mumbai and Rs 79.79 in Chennai, according to Indian Oil. Diesel was sold at Rs 68.08 per litre in Delihi, Rs 70.63 per litre in Kolkata, Rs 72.48 per litre in Mumbai and Rs 71.87 per litre in Chennai. So far this year, petrol prices have shot up in the range of Rs 6.81-7.26 per litre across the four metros, while the increase in diesel prices has been in the tune of Rs 8.33-9.21 per litre in the wake of rising global crude prices.

3. Soaring crude oil prices in the past few months, coupled with weakness in the rupee against the US dollar, has led to petrol and diesel prices hitting all-time highs in Delhi and Mumbai.

4.
Oil Minister Dharmendra Pradhan
said on Monday that the government was looking at ways to keep rising fuel prices in check. "Various alternatives are being looked at," Mr Pradhan said, adding that he would "work out something soon", news agency Reuters reported.
5. Ongoing production cuts led by the Organization of the Petroleum Exporting Countries (OPEC) pushed crude oil prices to their highest level since late-2014. Brent has broken through $80 per barrel for the first time since November 2014. Also,
the rupee
has weakened nearly 6 per cent per dollar so far this year.
(With agency inputs)