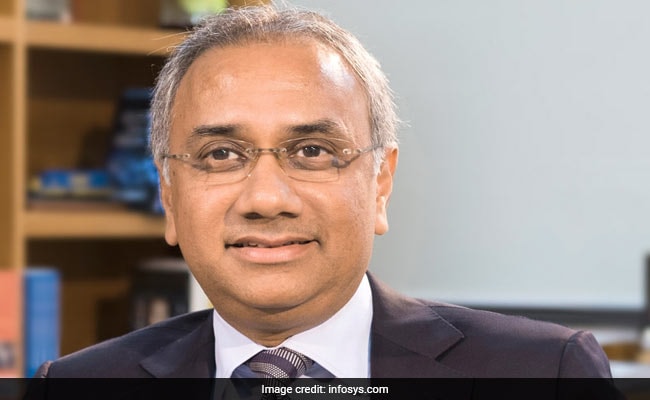 New Infosys CEO Delivers In His First Quarter, Profit At Rs 3,690 Crore
Infosys, India's second biggest outsourcer, today reported earnings for the fourth quarter ended March 31, 2018. This is the first full quarterly numbers under its new CEO Salil Parekh, who took charge of the Bengaluru-based outsourcer in early January. Infosys reported net profit of Rs 3,690 crore in Q4, mostly in line with market estimates. Analysts polled by Reuters had on average expected Infosys to post a net profit of Rs 3,709 crore. The profit number for the March quarter is a decline as compared to previous quarter (Q3) as its March quarter profit was boosted by reversal of income tax provision of Rs 1,432 crore. Infosys had reported a net profit of Rs 5,129 crore for the quarter ended December 31, 2017.
For the March quarter, Infosys revenue from operations rose to Rs 18,083 crore, a quarter-on-quarter growth of 1.6 per cent. Operating margin in March quarter improved to 24.7 per cent from 24.3 per cent in Q3.

For FY19, Infosys guided for revenue growth of 6-8 per cent in constant currency, which is in line with market estimates.

"I am pleased with our healthy revenue growth, profitability, and cash generation in Q4. Our robust performance is a reflection of the strong impact we have with our clients and the dedication of our employees. 'Navigating Your Next' is our aspiration of how we will partner with each one of our clients." said CEO Salil Parekh. "We will execute our strategy around the four pillars of Scaling our Agile Digital business which is today $2.79 billion in revenue, Energizing our client's Core technology landscape via AI and automation, Re-skilling our employees, and Expanding our localization in markets such as US, Europe, and Australia."

Infosys board recommended a final dividend of Rs 20.50 per share and a special dividend of Rs 10 per share. The board has decided to retain the current policy of "returning up to 70 per cent of the free cash flow of the corresponding financial year in such manner, as may be decided by the Board from time to time, subject to applicable laws and requisite approvals, if any."
With improving economic outlook in key markets like the US and higher adoption of outsourcing in Europe and digital services gaining scale, fiscal year 2018-19 looks better for Indian IT companies, say analysts. Shares of Infosys, which reported earnings after market hours today, ended 0.60 per cent higher at Rs 1,169, extending their gain to the fourth day.