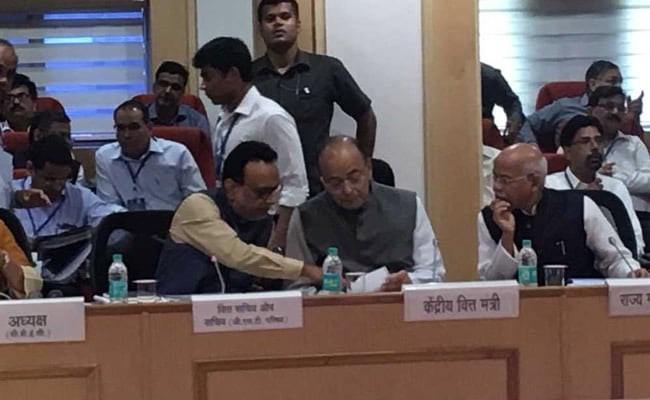 GST Council Meet Today. E-way Bill likely To Be Rolled Out In April
Highlights
GST Council is expected to give extension to the filing of 3B returns
Council is finalising Nilekani's proposal to simplify tax filing process
In the previous meet, filing of GSTR-2 and GSTR-3 forms was stopped
In its 26th meeting on Saturday, Goods and Services (GST) Council is expected to simplify the return filing process, ANI reports. The GST council is also expected to give extension to the filing of 3B returns, and also deliberate over the current position of revenue generated from the landmark indirect tax legislation that was passed on July 1, 2017.
On February 24 this year, Bihar's deputy chief minister and state finance minister Sushil Modi had said that the e-way bill would be made mandatory from April 1. A step in that direction may be taken in the council meet Saturday.
The GST council is eyeing at finalising the module proposed by Nandan Nilekani to simplify filing of returns in its upcoming meeting on March 10, an official told PTI on Friday.
"The biggest glitch now in the system is the GST returns. The GST return filing is being simplified. Nandan Nilekani has come out with a fantastic module and a committee has been set-up to discuss all of it and then submit a report.
In the 23rd GST council meeting, it was decided that filing of GSTR-2 and GSTR-3 forms would stop and only the filing of GSTR-1 and GSTR-3B would continue.
However, the present return filing system is still cumbersome for tax payers and cost of compliance has gone up mainly because people are not able to handle the present system of filing returns.
According to the recommendation made by Nilekani, instead of supplying invoices to be uploaded, a module can be formed where supplying invoice details can be posted, and based on the invoice data fed by the supplier, the system by itself generates the return.
GSTR-3B Return: Due Dates For February And March

Due date of filing GSTR-3B return is 20th of the next month. For instance, the 3B return for the month of March can be filed anytime before April 20, and similarly, the 3B return for the month of February can be filed anytime before March 20.

GSTR-1 Return: Due Dates For February And March
Taxpayers with an annual turnover that amounts to Rs 1.5 crore or less are obligated to file their GSTR-1 returns quarterly. The due date for such taxpayers is 30th of the month following the end of respective quarter. For the March (Jan 1 to March 31) quarter, for instance, the deadline would be 30th of April.
Those with a turnover of Rs 1.5 crore and above are meant to file monthly returns of GSTR-1. The deadline for monthly return is 10th of the month that comes two months after the end of respective month. For instance, the GSTR-1 return for the month of January can be filed by March 10. Likewise, returns for the months of February and March can be filed by April 10 and May 10.