Business
Domestic Gold Futures Trim Losses To End At Rs 52,585
Current Gold Price In India: MCX gold futures fell to as low as Rs 52,160/10 grams during the session
Gold Price In India: Domestic gold futures recovered more than half of intraday losses after falling more than 1 per cent on Friday, as global prices of the yellow metal eased. Multi Commodity Exchange (MCX) gold futures - due for an October 5 delivery - declined by as much as Rs 770 - or 1.45 per cent - to hit Rs 52,160 during the session.The MCX gold futures contract shut shop at Rs 52,585 for the day, down Rs 345 - or 0.65 per cent - from its previous close. (Track Gold Price Here)
In the international market, the price of gold moved lower as a jump in US Treasury yields forced investors to reassess their positions again after a steep retreat from a record peak earlier this week.
Spot gold was seen trading 0.1 per cent lower at $1,950.94 per ounce.
Gold has been one of the most consistent gainers through the six months of coronavirus-led turmoil in financial markets, benefiting from a flood of capital into the world economy and investors seeking a relatively safe location to park money with interest rates at or near zero.
Typically, any sign of uncertainty in the financial markets boosts the appeal of gold as a safe-haven bet, as investors rush away from riskier asset classes. (Also Read: Gold's "Dream Run" May Continue, Say Analysts)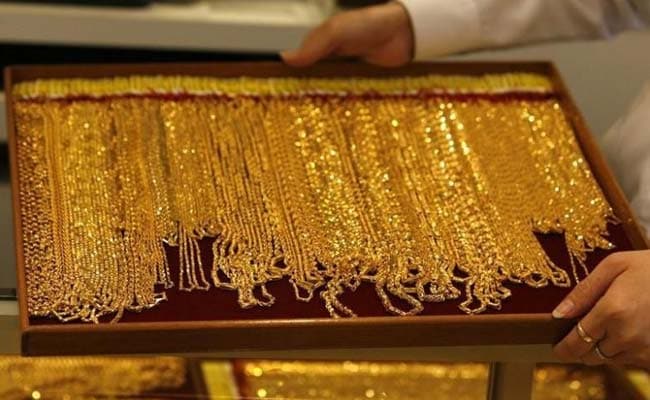 (Gold futures had risen to an all-time high of Rs 56,191 last week)
Promoted
Listen to the latest songs, only on JioSaavn.com
The closing rate of gold jewellery stood at Rs 52,874 per 10 grams on Friday, excluding GST, according to Mumbai-based India Bullion and Jewellers Association (IBJA), an industry body.
#Gold and #Silver Closing #Rates for 14/08/2020#IBJApic.twitter.com/eZf62bh7Dw

— IBJA (@IBJA1919) August 14, 2020
What Analysts Say
"After a sharp fall from record high level of near $2089/oz to a three-week low of near $1874/oz, gold has bounced back to trade near $1950/oz," said Ravindra Rao, VP-head commodity research, Kotak Securities.
"Gold's sharp rally in last few weeks made it vulnerable to profit-taking, however the sharp rebound shows that market players are still upbeat about its future outlook. Trend in US dollar continues to be the key price determining factor."